Interior Design Shoppe is a boutique that provides clients with design services and custom, quality home goods made in North America. We have sought to bring Calgarians a sophisticated destination for all things interior design. From color consults, custom furnishings and window treatments to full scale design services and project management, the savvy duo of Natalie Brierley and Sylvie Croteau-Willard bring inspiration and expertise to every project.
Interior Design Shoppe is proud to partner with the following businesses to better serve our clients:

J'Organizing is all about systems.The right systems allow you to maintain a high level of organization and functionality with minimal effort.J'organizing Inc. believes that by taking the time to understand the way you and your family work and live, we can achieve that every time.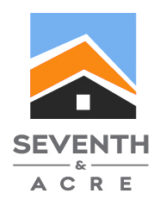 Seventh & Acre and Interior Design Shoppe share their belief in beautiful, diverse inner city living. With Seventh & Acre, you'll find a quality place at a good price, with a good landlord.

The Calgary Design Group are a collective of independent Calgary based designers, including
Interior Design Shoppe
, who, through the spirit of collaboration, are dedicated to building awareness of and trust in the profession of
interior design
and decoration.